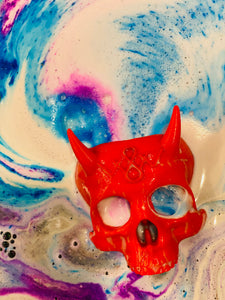 Horned Skull Bath Soak
W & W Fragrance Blend: An invigorating blend of sage, bergamot spice and leather woods. Clean, warm and incredibly fresh.

Direction: Fill your tubs with warm water, place the Horned Skulls Bath Soak into the bath water and watch the vivid colors of blue and purple colors oozing out from the top and gory blood from its eyes sockets.
After you drain your bath water, simply rinse your Horned Skulls Vessel under warm water and let it air dry or wipe down with towel. I use my empty horned vessel for my makeup brushes but you can definitely use it as a paper weight, or even as a conversational piece. Enjoy! 
Ingredients: Sodium Bicarbonate, Citric Acid, Sodium Lauryl Sulfoacetate, Prunus Amygdalus Dulcis (Sweet Almond) Oil, Parfum, Polysorbate 80, Adosonia Gregoril (cream of tartar). Some may contain all or one of FD&C Yellow 6 (ci15985). D&C Red 28 (ci42090), Blue 1 (ci42090), mica.

W & W parfum maison: Un mélange vivifiant de sauge, d'épices de bergamote et de bois de cuir. Propre, chaud et incroyablement frais. 

Mode d'emploi: Remplissez vos baignoires d'eau tiède, placez le bain de crâne  Trempez-vous dans l'eau du bain et regardez les couleurs vives des couleurs bleues et violettes degager du haut du crâne et le sang sanglant de ses orbites.
Après avoir vidé l'eau de votre bain, rincez simplement le contenant sous l'eau tiède et laissez-le sécher à l'air libre ou essuyez-le avec une serviette. J'ai ulitisé mon vaisseau pour ranger mes pinceaux de maquillage, mais vous pouvez certainement l'utiliser comme poids de papier, ou même comme décoration. 
Ingrédients: Bicarbonate de sodium, acide citrique, lauryl sulfoacétate de sodium, huile de Prunus Amygdalus Dulcis (amande douce), Parfum, polysorbate 80, Adosonia Gregoril (crème de tartre). Certains peuvent contenir tout ou un de FD&C Yellow 6 (ci15985). D&C Red 28 (ci42090), Blue 1 (ci42090), mica.
---