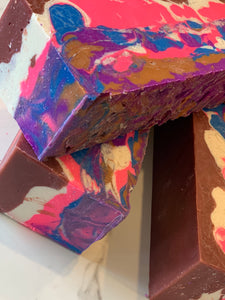 Decay Soap
Fragrance: An infusion of rose, jasmine, ylang and spice. A haunting, unique scent.
Ingredients : 
Olive Oil (Olea Europaea), Coconut (Cocos Nucifera) Oil, Palm Oil (Elaeis Guineensis), Water (Aqua),  Lye (Sodium Hydroxide), Castor Seed Oil (Ricinus Communis), Canola Oil, Fragrance, Almond Oil (Prunus Dulcis), Skin-Safe Colorants, Polyethylene Terephthalate (Glitter)
Weight : 
Approx 6.5
 oz 
(184g)
Please note that our Artisan Soaps are hand cut so actual weight may vary slightly.

Parfum: 
Une infusion de rose, de jasmin, d'ylang et d'épices. Un parfum envoûtant et unique.
Ingrédients:  huile d'olive (Olea Europaea), huile de coco (Cocos Nucifera), huile de palme (Elaeis Guineensis), eau (Aqua), lessive de soude (hydroxyde de sodium), huile de graines de ricin (Ricinus communis), huile de canola, parfum , Huile d'amande (Prunus dulcis), colorants sans danger pour la peau, Polyethylene Terephthalate (brillant).
Poids:  Environ 6,5  oz  (184g) 
S'il vous plaît noter que nos savons artisanaux sont la main coupés peuvent légèrement varier si le poids réel.
---