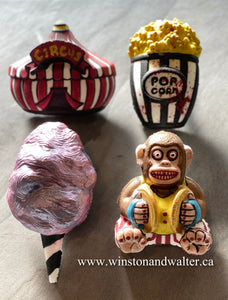 Not My Circus, Not My Monkeys Collection
For limited time, when you buy this set, you will get the Corn Dog for free!
Corn Dog: This Corn Dog is scented in a killer fragrance to say the least! The aroma of freshly picked blueberries, fresh cut granny smith apples, smothered in butter, cream, and cinnamon, with a background of fresh baked crust. This fragrance is to die for! 
In this collection:
The Creepy Monkey©: The perfect scent to remind you of a cold, fizzy cola on a hot day at the carnival. 
Bloody Popcorn: A decadent creamy blend of caramelized sugar and farm fresh butter blended to sweet perfection.
Cotton Candy Twist: Think pink - Just like fresh cotton candy from a county fair!
Circus Tent: Summer Tea Party fragrance is the aroma of freshly brewed iced tea with juicy lemon.  Let the crazy party begin!

Approx: 10 oz each bomb  
Ingredients: Sodium Bicarbonate, Citric Acid, Sodium Lauryl Sulfoacetate, Persea Gratissima (Avocado) Oil, Parfum, Polysorbate 80, Adosonia Gregoril (cream of tartar). Some may contain all or one of FD&C Yellow 6 (ci15985). D&C Red 28 (ci42090), Blue 1 (ci42090), mica.
Approx. 10 oz
Parfum: 
Ingrédients: Bicarbonate de sodium, acide citrique, lauryl sulfoacétate de sodium, huile de Prunus Amygdalus Dulcis (amande douce), Parfum, polysorbate 80, Adosonia Gregoril (crème de tartre). Certains peuvent contenir tout ou un de FD&C Yellow 6 (ci15985). D&C Red 28 (ci42090), Blue 1 (ci42090), mica.

---