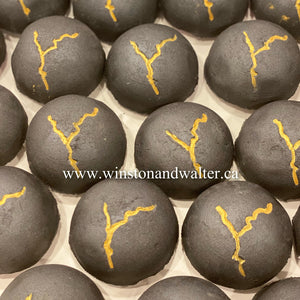 The Crack Bomb RETURNS
PLEASE READ: 👇🏻👇🏻👇🏻👇🏻
Let's play a game!

Ring the bells that still can ring
Forget your perfect offering
There is a crack, a crack in everything
That's how the light gets in!

Only 100 Crack Bombs will be made, and there will be 10 lucky winners who will wins a one time use 50% discount code towards their next order. 

How much will they cost?

-They will be 7.50$ each (minus the discount code on top)

How do I participate and how I know if I am a winner? I though you would never ask!

-Each Crack Bomb will be filled with our fancy explosive embeds but ONLY 1 special Crack Bomb will be filled with our Gory Blood Embeds. If you are that lucky goddess who sees blood in your bathtub, then you're the WINNER WINNER chicken dinner! ***DM us a picture of your bloody bath water or video to us as proof you won.

What do you win?

-You get a discount of 50% off on your next order with us! (Except items in the Carpenter collection)


Fragrance: Clary Sage and Ylang Ylang blended into sweet night blooming Jasmine.

Ingredients: Sodium Bicarbonate, Citric Acid, Sodium Lauryl Sulfoacetate, Prunus Amygdalus Dulcis (Sweet Almond) Oil, Parfum, Polysorbate 80, Adosonia Gregoril (cream of tartar). Some may contain all or one of FD&C Yellow 6 (ci15985). D&C Red 28 (ci42090), Blue 1 (ci42090), mica.
Parfum: Clary Sage et Ylang Ylang se sont mélangés dans le doux jasmin de nuit.
Ingrédients: Bicarbonate de sodium, acide citrique, lauryl sulfoacétate de sodium, huile de Prunus Amygdalus Dulcis (amande douce), Parfum, polysorbate 80, Adosonia Gregoril (crème de tartre). Certains peuvent contenir tout ou un de FD&C Yellow 6 (ci15985). D&C Red 28 (ci42090), Blue 1 (ci42090), mica.
---