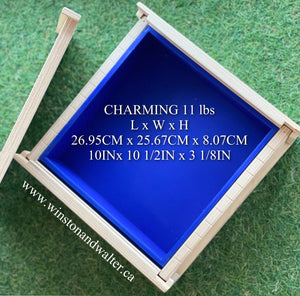 OCTOBER PRE ORDER Charming 11lbs Standard
IMPORTANT PLEASE READ
THIS IS A PRE ORDER LISTING. THIS MOLD IS MADE TO ORDER AND THE ESTIMATED TURN AROUND TIME IS OCTOBER OR early NOVEMBER. 
ALL SALES ARE FINAL. We do not accept returns on wood molds and silicone liners. There is a 20% chargeback for any cancellations, there are no exceptions to this policy. Import Duty, Taxes & Customs Clearance: The buyer is responsible for all importation costs associated with the shipment. Thank you for your patience & understanding. 
Follow us on Instagram & Facebook for updates on updates or email us directly from our website. @winni_and_walt
Silicone thickness: 7mm

DISCLAIMER : These are suggestions our customers provided us. We recommend that you should always measure the sizes you desire to achieve  prior to cutting your soap into loaves or bars.  
30 BARS 3.5 inch wide
40 BARS 2.5 inch wide 
50 BARS 2 inch wide
33 BARS 1 inch wide
This wooden soap mold has been designed with removable sides. Notched at 1" for embed decorating. Sealed with lacquer. 
Can be used with a silicone mold or without.
Silicone Liner dimensions: (Length x Width x Height)  
Inner Liner Dimensions:
(CM) Measurements:  26.95L×25.67W×8.07H
(INCHES)Measurements : 10L x 10 1/2W x 3 1/8H
Country Of Origin: Canada, Quebec

***Lid & Silicone Mold is included.
***Birch Ply Wood, Sealed with oil  
*PLEASE NOTE: The wood with a shinny surface aka "Armor" has been discontinued by the wood mill and will not be restocked. Limited stock left with this material. 
---