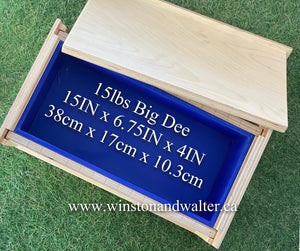 Big Dee 15lbs Tall & Skinny Slab Mold
PLEASE READ : 
ALL SALES ARE FINAL. We do not accept returns on wood molds and silicone liners. There is a 20% chargeback for any cancellations, there are no exceptions to this policy. Import Duty, Taxes & Customs Clearance: The buyer is responsible for all importation costs associated with the shipment. Thank you for your patience & understanding. 
Follow us on Instagram & Facebook for updates on updates or email us directly from our website. @winni_and_walt
Suggested measurements for three even loaves (2.22 inches width bars)
-Cutting at 5.66 cm (2.22 inches) 
42-84 bars depending on the thickness 
Suggested for three loaves 2 1/4 x 14.96 inches long loaves (2 loaves at 2.25 inches and 1 loaf at 2") 
2 loaves at 2 1/4. And one small one that is 2"
Silicone thickness: 7mm

Capacity: 240 total ounces (15 pounds)
This wooden soap mold has been designed with removable sides. Notched at 1" for embed decorating. Sealed with lacquer. 
Silicone Liner dimensions: (Length x Width x Height)  

Inner Liner Dimensions:
(CM) Measurements: 38.05L x17.10W x10.30H

Country Of Origin: Canada, Quebec

***Lid & Silicone Mold is included.
***Birch Ply Wood, Sealed with oil  
---