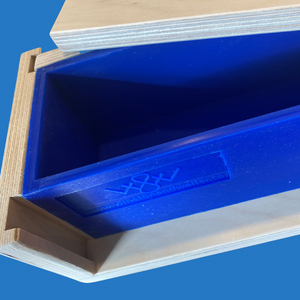 Long Loaf Wood Mold With Silicone
PLEASE READ IMPORTANT:
ALL SALES ARE FINAL. We do not accept returns on wood molds and silicone liners. There is a 20% chargeback for any cancellations, there are no exceptions to this policy. Import Duty, Taxes & Customs Clearance: The buyer is responsible for all importation costs associated with the shipment. Thank you for your patience & understanding. 

This wooden soap mold has been designed with removable sides. Notched at 1" for embed decorating. Sealed. 

Can be used with a silicone mold or without.
Makes (1) 125 oz. Loaf (Mold filled ½" from top.)
Loaf Dimensions: 3.75" x 20.56" x 3.5"
Inside Loaf Dimensions: 3.6875" x 20.5" x 3.375"

Country Of Origin: Canada, Quebec

*Signature Blue Silicone Liner is included.
**This listing is for one mold. 


---