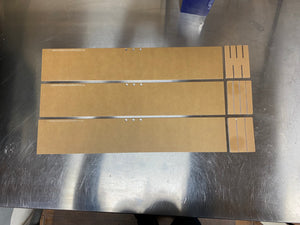 W & W Soap Partition tool / Partition à savon W & W for Walter 6.5 lbs Mold
Use our special W & W Partition tool will help you  create stunning soap swirls with ease! Please try our fluid soap recipe. How to assemble our partition tool put the shorter end pieces in the mold with the grooves facing each other. Hold them in place while you slide the partitions in the grooves. Once they're in, put the center piece on top to keep everything steady. Now, slowly pour the soap in each section. When it's all in, carefully lift out the partitions and end pieces straight up.

We love making soap and we want to help you make it too! Please subscribe to our YouTube channel and follow us on social media, we look forward to seeing your creations! Let's have fun and get creative!

Vous voulez créer un savon incroyable avec de beaux tourbillons ? Utilisez notre outil spécial Partition W & W! Il rend la fabrication de savon si facile. Essayez notre recette de savon fluide, elle fonctionne parfaitement avec l'outil.

L'assemblage de l'outil est simple. Placez les pièces d'extrémité plus courtes dans le moule avec les rainures face à face. Maintenez-les en place pendant que vous faites glisser les cloisons dans les rainures. Une fois qu'elles sont en place, placez la pièce centrale sur le dessus pour tout stabiliser. Maintenant, versez lentement le savon dans chaque section. Lorsque tout est en place, retirez soigneusement les cloisons et les pièces d'extrémité en les soulevant vers le haut.

Nous sommes passionnés par la fabrication de savon et nous voulons vous aider à créer des savons incroyables ! Abonnez-vous à notre chaîne YouTube et suivez-nous sur les réseaux sociaux pour voir plus de conseils et d'idées de fabrication de savon. Nous avons hâte de voir ce que vous créerez avec notre outil W & W Partition. Amusons-nous et soyons créatifs !
---