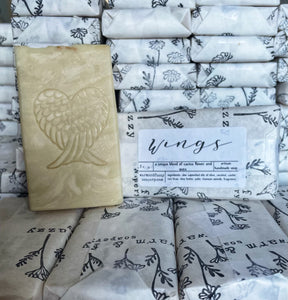 Wings Soap Made by: Warm and Fuzzy Soapery
If you wish to make a donation in lieu of purchasing. Please head over our Go Fund Me page:
https://www.gofundme.com/f/senior-care-awareness?utm_source=customer&utm_medium=copy_link&utm_campaign=p_cf+share-flow-1
Made with the most natural ingredients available, my soaps don't contain the chemical detergents of the big brands. Just natural cleansing for you and your family. Your skin is your largest organ and your first line of defense. Doesn't it make sense to make sure it's well taken care of? Please note this listing is for one bar of soap. The bars average 3 oz+ each. Being handmade, each bar will be slightly different than the pictures.
Description
Scent notes: a light, refreshing crisp citrus scent mixed with the first tender buds of spring emerging from their winter sleep.
Ingredients:
saponified oils of coconut, olive, palm, castor, rice bran, shea butter water, mica, fragrance.
---